Click here to read about our All Natural Lavender Laundry Soap on Real Simple! 
We are simple people with one simple motivation. We want to make your life happier and healthier! We do so by infusing love and integrity into every single one of our products enriching you; mind, body and spirit. 
 This starts with our organic, bee-friendly method of beekeeping. We love our honeybees and support them to do just as nature intended only harvesting when there's an excess surplus and never treating our bees with chemicals. 
Every bottle of honey is hand harvested, hand labelled and filled slowly, by hand, every single ounce. 
Every jar of our all natural laundry soap is hand mixed, hand bottled and hand assembled.
Every dryer ball is hand rolled, hand washed, and hand packaged. 
Each order is hand wrapped, hand written and hand sealed with a personalized thank you, then hand delivered to the nearest delivery service provider on its journey to you.
We do this all with the knowledge that our products, simply put, make life better. The greatest reward we receive is when we are told how much someone loves our products, how they can't live without it.  
Who are we exactly? We are a small family farm located in northeast Ohio specializing in raw, unpasteurized, organically raised wildflower honey, wool and all natural handmade soap with a focus on sustainability and friendly, personal service. 
When you support organic beekeepers, you support the earth. We depend on honeybees to pollinate thirty percent of the food we eat. By taking the upmost care of our bees it helps support our ecosystem and mother nature. What you do matters, and we thank you for your care.
It is important to us to keep our planet clean and strong for future generations. We do our best by using...
Recycled/Recyclable shipping materials

Glass bottles only that can be returned, recycled or up-cycled

Jar return incentives for discounts ($1 off your purchase for each laundry jar returned)

Supplementary supplies bought locally

No palm oil in bar soap 

Organic beekeeping practices

Organic farming practices

Additional Customer Benefits Include...
Free Bonus Item or exclusive discount with Every Purchase!

Attentive, Personalized Service

Complete Satisfaction or Money Back Guaranteed

Frequent Loyalty Rewards/Discounts

It is our belief that not all honey is created equal. Most honey you find today is one of a few things; it is either pasteurized which removes all of its nutritional benefits, chemically treated (enough said) or the bees were fed sugar instead of allowing them to draw nectar from the plants blooming seasonally. We do things differently. We use organic beekeeping leaving the bees to do just as nature intended thus producing raw, unprocessed honey straight from the hive to the bottle left with all the natural goodness and nutrients the bees were smart enough to put into it and generous enough to allow us to have some of the surplus without ever harming the hives in any way.
In addition to the bees, we raise a couple of older and very silly Angora goats and CVM/Romedale sheep who are more like big, lovable family dogs than farm animals. We use their fiber to make our 100% Felted Wool Dryer Balls, in return treating them to their favorite snacks of banana peels, acorns, Christmas trees, and the earbuds they occasionally find in our pockets. 

In search of all things natural, we formulated our own all natural, environmentally friendly Lavender Laundry Soap. It is gentle enough for the most sensitive skin, yet strong enough to tackle the toughest stains. Just requiring one small scoop per load and getting up to 100 loads per jar, our laundry soap is more cost efficient than conventional brands and leaves your clothes soft, bright and always clean without the use of synthetic chemicals or fillers. 
What's clean clothes without a clean body to go in them? We recommend trying our handmade, all natural goat's milk and beeswax bar soap for a rich and creamy, skin nourishing treatment. It smells so good, it's soap you WANT to wash your mouth out with.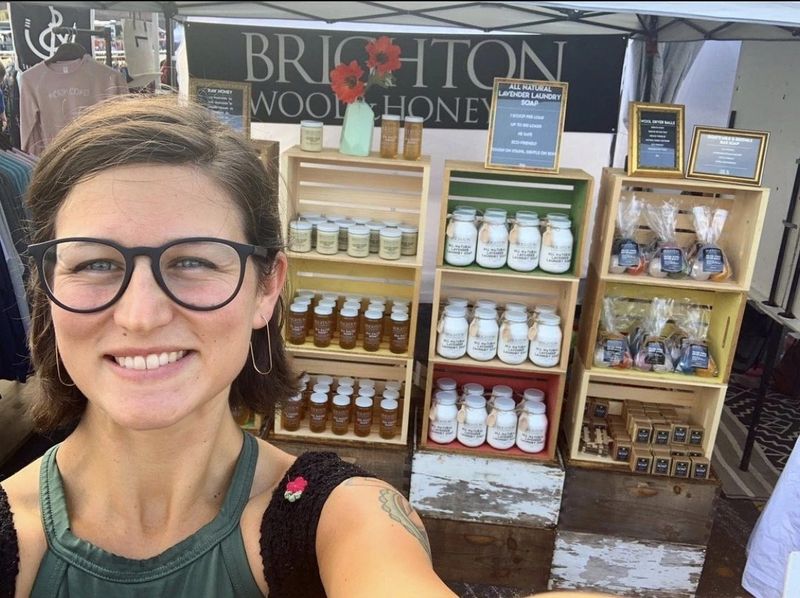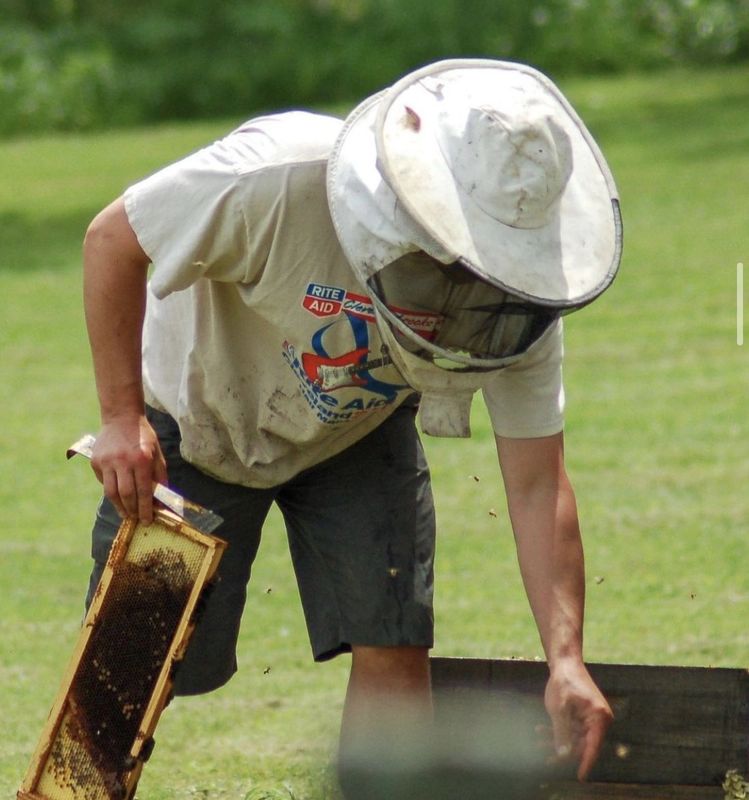 This is us! Maggie and Mike, owners of Brighton Wool & Honey Co. Both having a love for the outdoors, we found ourselves meeting at the beautiful, mountain-tucked school of Appalachian State University in Boone, NC. When not at the farm, we enjoy hiking with our children in Cuyahoga Valley National Park and watching all things Cleveland sports.